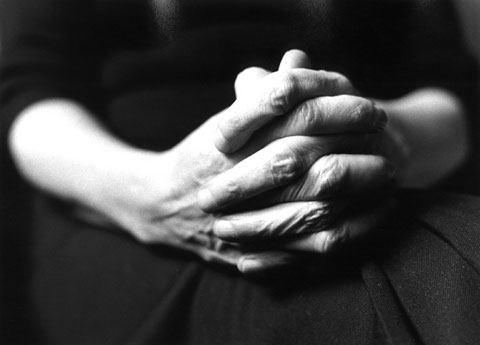 (photo not by me but i can't find where i borrowed it from)
i am reading a book for my book club right now,
Say You're One of Them by Uwem Akpan
, a nigerian writer. it is an emotionally leveling book of short stories which take place in Africa. i highly recommend it, although be prepared for it to move you. i read an interview with the author the other night. i was struck by this comment that uwem akpan made during the interview when the interviewer asks him about his impressions of life in america:
The rhythm of life here is different from that of Nigeria... [for instance, in america] the thing about old people staying in "homes" away from home blew my mind. 
in nigerian culture, the elderly are cared for by family until they pass away. but in our own youth oriented western culture that is not the norm. i don't mean to say it never happens: my own aunt and uncle relocated to another state, separated from their own routine and community, at a personal and financial sacrifice, to care for my grandfather until he died. but it is rare that we bring our old family members into our own homes to care for them, and it is unheard of to bring someone old, frail, and difficult into our home when they aren't even related to us.
the morning after reading this interview, i got an email from meeghan, a friend of mine who, along with her husband darin and young son, adopted an elderly woman named guinn. i hesitate to tell their story, because it in no way can capture the fullness of how they have served and cared day in and day out for an old (often cranky) woman who is no blood relation. but i think it needs telling.

they have known guinn for ten years and she has

lived with them

for the last 7 years and the majority of their marriage. they adopted her into their family so that her wishes, to not spend the end of her days in a home, would be fulfilled. 
to love someone like this
it isn't sexy or temporary or easy. 
love like this means feeding, clothing, washing, wiping, changing another adult. it means enduring hard days with lots of doctors appointments, adult day care, bad attitudes, dirty diapers, and so on. it also means living with three generations in one space, and the rich gift it is for your small child to share every day with someone who is at the end of their lifetime. caring for guinn it is like caring for an infant, except without an adoring sweet face that grins back at you and coos or cuddles. the mess and complete dependence is there, but the sweet moments and small joys are scattered in less frequently. 
but my friends follow the teachings of jesus, and so that is exactly what they do:

try

to follow the example of how jesus lived. they love guinn the way that jesus loved people: at a cost, even if the person they loved were scorned or annoying or ornery or forgotten or worthless to the rest of the world. 
a lot of people talk about loving radically or following the tenets of the faith they embrace, but most of the time it gets kind of watered down or normalized into something that fits into our schedules or lifestyle. meeghan and darin live what they believe, and they model for their son justice what it means to truly love and care for the world around them, starting in their own home. it has not been an easy road.
in the email i got from meeghan, from the other side of the country, i got the news that guinn passed away this tuesday morning. 
meeghan, darin, and justice loved her with dignity and grace, honoring her life even when she was difficult to love or inconvenient to their life's plans. they brought a stranger into their home and loved her like a grandmother, like a daughter. 
i want to love like they do.